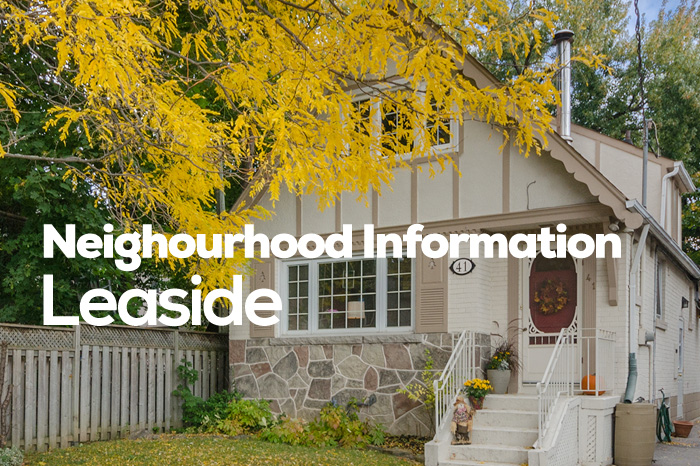 Leaside is one of midtown Toronto's most popular and desirable districts. Known for its expansive green spaces and charming, intricately detailed brick houses, Leaside has attracted young and growing families for decades. Given its prominence as a premier Toronto neighbourhood, Leaside offers homeowners the potential for an excellent return on their investment, and is home to some of the most highly regarded schools, parks and recreation facilities in the city.
Abutting the eastern edge of Davisville Village, Leaside extends from Bayview Avenue to Laird Drive, with Sunnybrook Park comprising its northern boundary.
Leaside extends south to Southvale Drive and Moore Avenue, which run along the northwestern edge of Thorncliffe and Bennington Heights.
History of Leaside
The neighbourhood takes its name from the Lea family, who settled in the area in 1820. Leaside's modern history began when the family patriarch, John Lea, acquired a parcel of land known as "Lot 13," on which he built a farm. In 1854, John Lea's son, William, completed construction of a large brick house to the south of his father's farm, a home he named "Leaside." When William Lea became a magistrate for the County of York, Leaside served double duty as his family home and the regional post office.
In 1884, the Canadian Pacific Railway built a station and maintenance centre on land located just southeast of Leaside, and named it in honour of the Leas' family estate. The railway prompted further industrial and residential development in the area, and by 1913, Leaside was officially incorporated as a town. It experienced a growth spurt during World War I, but it was the construction of the Leaside Viaduct which triggered a rapid wave of development and modernization. The viaduct, which opened in 1927, provided a vital bridge across the previously impassable Don River, allowing people employed in adjoining East York to live in Leaside.
During the 1950s, Leaside's southern neighbour, Thorncliffe, experienced a population explosion of its own, which led to the construction of a second bridge connecting Leaside to the other side of the Don Valley. By 1955, Leaside's population had grown to almost 17,000, and in January of 1967, Leaside became part of the borough of East York, which was amalgamated into the City of Toronto in 1998. In 2012, a renovated version of the historic Leaside manor house came up for sale.
Demographics
Primarily comprised of single-family homes, Leaside is dominated by upper-middle-class families. Household income levels are relatively high, and the neighbourhood has very low crime rates. It is located in Ward 26.
According to statistics compiled by the City of Toronto in 2011, over half of Leaside's residents are working professionals between the ages of 25 and 64. Young people between the ages of 15 and 24 account for about 12 percent of its population, and children under the age of 14 comprise an additional 20 percent. Seniors make up about 16 percent of the population.
Here is how Leaside's demographics break down, compared to the rest of Toronto:
Children under 14: +31.4 percent
Youth aged 15-24: -6.5 percent
Working-aged people between 25 and 64: -9.2 percent
Senior citizens: +8.8 percent
Leaside Fun Facts & Famous Residents
The Leaside neighbourhood has a colourful and storied history. The district made important contributions to the Canadian war effort during World War I, as the Leaside Munitions Company was an important manufacturer of heavy artillery. Leaside was also the site of the first airmail delivery in Canada Post history, when 120 letters sent from Montreal were delivered via airplane to the local post office in 1918. The intersection of Bayview and Eglinton was also home to Toronto's first strip mall, known as Sunnybrook Plaza.
Over the years, many luminaries and prominent citizens have called Leaside home. Prime Minister Stephen Harper was born in Leaside, and former Toronto Maple Leafs players Darcy Tucker and Doug Gilmour also live in the neighbourhood. Former NHL player and current Sportsnet hockey analyst Nick Kypreos is another well-known Leaside resident.
Architecture and Real Estate Options
With few exceptions, Leaside is made up of single-family two-storey brick homes that date back to the construction boom of the 1930s and 1940s. Many of the houses in Leaside share definitive architectural characteristics, including prominent front bay windows, arched entryways accentuated with cut stone, and wide door casings made of hand-crafted wood. Intricate stonework, etched dentil, artisan mouldings and patterned masonry are among the other common design elements of Leaside homes. The average lot size is 32 feet by 125 feet, and virtually all the neighbourhood's homes have their own private driveways. According to the North Toronto Post, Bessborough Drive is the neighbourhood's best street, offering wide, majestic boulevards, mature trees and grand homes with historic dignity.
Leaside is further subdivided into northern and southern districts. In North Leaside, home prices tend to be on the higher end of the spectrum, starting in the upper-six figures range and extending to $3 million and beyond, as of 2012. In the southern part of Leaside, home prices are more affordable and housing options are more varied. While South Leaside offers plenty of the neighbourhood's iconic two-storey brick houses, semi-detached homes and bungalows are also common, with price tags that make them more attainable to younger families and first-time home buyers. For up-to-date sales statistics, please visit the stats page.
Prospective buyers looking for an alternative to detached or semi-detached homes can look to Leaside's condominium and townhouse developments. While these are relatively few in number, most condos and townhouse complexes are fairly new, dating back to the 1990s when a period of modern development swept through the neighbourhood. Most of the condo and townhouse options gravitate towards the higher end of the pricing spectrum, as their developers marketed these properties as "exclusive" when they were being built.
In total, there are 5,479 houses and approximately 4,000 apartment and condominium units in Leaside.
Transportation
Leaside is serviced by an extensive network of local TTC buses with connections to the St. Clair subway station. Bus routes on Eglinton Avenue and Bayview avenue offer additional subway connections, to the Eglinton and Davisville stations. Downtown Toronto can be reached within about 30 minutes via public transit.
The Bayview Extension, which connects with the Don Valley Parkway and major commuter highways, is easily accessible. Travel time to downtown Toronto is approximately 15 to 30 minutes by car.
Parks and Green Spaces
Leaside is well-known for its many parks and green spaces. Sunnybrook Park, which defines Leaside's northern boundary, is one of Toronto's premier outdoor attractions, offering scenic picnic areas, a comprehensive network of hiking and fitness trails, equestrian facilities, baseball diamonds and soccer fields. In South Leaside, Trace Manes Park houses the six-court Leaside Tennis Club as well as a baseball field, a well-equipped children's play area and the popular Trace Manes Park Community Centre, based in the park's historic Centennial Building. During the winter, Trace Manes Park hosts an outdoor ice rink, where residents can enjoy leisure skating or play a pickup hockey game.
Howard Talbot Park, a large open green space with excellent baseball diamonds, connects to Leaside High School at the southeast corner of Bayview and Eglinton Avenues. Connected to Sunnybrook Park, Serena Gundy Park also offers a picturesque respite from Toronto's busy urban atmosphere, and Leaside is also close to a number of smaller neighbourhood parks including Moore Park Ravine, Sherwood Park, Blythwood Ravine and David A. Balfour Park.
Culture and Recreation
In addition to the many outdoor leisure options afforded by the neighbourhood's major parks, Leaside boasts some of Toronto's most comprehensive indoor recreation facilities. Anchored by the Leaside Memorial Community Gardens, which houses an auditorium, curling club, swimming pool and indoor ice rink, Leaside residents can stay active and involved all year round; in 2012, crews broke ground on the construction of a new hockey rink at the site. The Ontario Science Centre also lies within close proximity and is easily accessible by bicycle, car and public transit.

The Leaside Public Library is located just off McRae Drive, near Trace Manes Park. In addition to extensive selections of books and audio-visual materials, the Leaside Public Library offers art exhibition spaces, Internet access, book club meetings and community events throughout the year. It is particularly known for its comprehensive print and history collections.
Leaside and East York offer a wide range of dining options, reflecting Toronto's strong multiculturalism but also including a broad array of Canadian- and European-influenced gastronomies. Thai, Indian, Japanese, Chinese and Caribbean restaurants comprise the more exotic options, with many Greek, Italian and French eateries providing alternatives to Canadian fare, which is also strongly represented. For casual dining and quick take-out, there are plenty of pizza restaurants, diners, caterers and cafes in the area. There are also lots of charming and quaint pubs where residents and visitors can enjoy a quality pint and a home-cooked meal. However, residents may notice that licensed outdoor patios can only be found on the west side of Bayview Avenue; this is because the street's east side technically lies in East York, which has different liquor licensing bylaws.
Given its upper-middle-class demographic and relatively low concentration of immigrants and visible minorities, most places of worship in Leaside serve the Christian and Jewish traditions. The Anglican, United, Christian Reform, Baptist, Presbyterian, Eastern Orthodox, Catholic and Seventh Day Adventist denominations are all represented in the neighbourhood. Temples and synagogues are also located within close proximity.
Schools
Given its very high concentration of school-aged children, both public and private schools are abundant in Leaside, many of which routinely score well on the Fraser Institute's rankings.
The neighbourhood's public schools include:
Bessborough Drive Public School, 211 Bessborough Drive
Northlea Public School, 305 Rumsey Road
Rolph Road Public School, 31 Rolph Road
St. Anselm Catholic School, 770 Millwood Road
Leaside High School, 200 Hanna Road
When considering private schools, bear in mind that each school sets its own admission and enrolment policies, and some will only consider students who live within strictly defined geographic boundaries. Prospective home buyers considering real estate in Leaside who prefer to educate their children through the private system should contact local schools in advance of moving to the area and inquire about admissions procedures.
Some of the private schools in the Leaside area include:
Childrens Garden Nursery School, 1847 Bayview Avenue
Junior Academy, 235 McRae Drive
Crescent School, 2365 Bayview Avenue
Shopping and Neighbourhood Amenities
Bayview Avenue marks Leaside's eastern boundary, and it is home to some of the finest shopping in Toronto. The avenue's shopping district includes family-owned boutiques, interspersed with restaurants and wine bars. There is a heavy concentration of child- and family-oriented stores in the area, including the regionally famous Moms to Be. However, shoppers will also find jewelry stores, men's and women's fashion boutiques, home décor outlets, lifestyle retailers and antique shops. There is a wider range of shopping options available on Eglinton Avenue, and the Yonge Eglinton Centre, of Toronto's best retail complexes, is a short journey from the heart of Leaside.
Leaside has one of Toronto's densest concentrations of pediatricians and family doctors, given its status as one of the most family-oriented neighbourhoods in the city. Dentists, medical specialists and private health care providers are also based in Eglinton Square Mall, and throughout the Leaside community. Sunnybrook Health Sciences Centre is also a major fixture in the Leaside neighbourhood.
Future Outlook
Real estate values in Leaside have been trending for the better, with an average year-over-year appreciation rate of 10 percent. A large smart centre which currently houses bank branches, a Home Depot, a Sobeys grocery store and an LCBO outlet, is under expansion. A new condominium complex is also being developed at the intersection of Blythwood and Huntington.
With its iconic and definitive architecture, family-oriented sense of community, beautiful parks, outstanding recreation facilities and proximity to world-class dining and shopping, Leaside's reputation as one of Toronto's most desirable areas continues to grow. The neighbourhood retains its historic character and small-town feel despite being just minutes from downtown. Beyond being a great place to live and raise a family, Leaside offers prospective home buyers excellent real estate appreciation potential.
---
Jethro Seymour is one of the Top Midtown Toronto Real Estate Broker at Royal LePage RES Ltd., Johnston & Daniel Division. Jethro Seymour is a midtown Toronto residential specialist with over 20 years of sales experience in real estate, marketing, construction and publishing. He has helped many families find homes in Toronto's great neighbourhoods, and has extensive knowledge of local markets, new home construction, resale home sales, and the condo market. Living in midtown Toronto, Jethro previews many of the homes that come to market for his clients and inventory knowledge. Jethro specializes in the Midtown, Davisville Village and Leaside neighbourhoods.