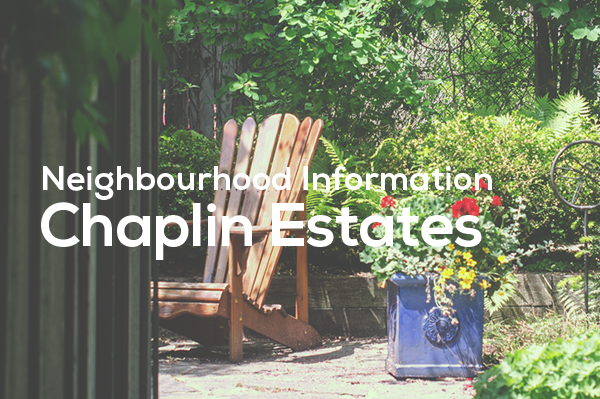 Chaplin Estates is one of Toronto's most exclusive neighbourhoods located in the Yonge and Eglinton district of midtown Toronto. Chaplin Crescent forms its western boundary, and Chaplin Estates is further contained by Eglinton Avenue to the north, Yonge Street to the east, and Chaplin Crescent and the Kay Gardner Beltline Trail to the south and west. Like the neighbouring districts of Davisville Village, Forest Hill, Deer Park and Allenby, Chaplin Estates feels like a quiet, distinct community removed from the busy clamour of Canada's largest city. Offering some of the most luxurious homes in Toronto, Chaplin Estates is one of the city's most prestigious neighbourhoods, with strong appeal to professionals and families in upper income brackets.
History of Chaplin Estates
Chaplin Estates is named for the Chaplin family, who were the area's principal landowners prior to the neighbourhood's development. In 1913, Chaplin family patriarch William John Chaplin and his son James partnered together to form the Chaplin Realty Company, and they submitted an official plan to develop esteemed neighbourhoods, and by the 1920s, the first luxury homes in Chaplin Estates were offered for sale.
However, the Chaplins were somewhat hamstrung by limiting bylaws and zoning restrictions. Two such restrictions would prove definitive of the neighbourhood's growing character. First, no semi-detached homes were allowed. Second, municipal officials decreed that no more than half of the exterior of any home could be finished in stucco. As a result, manor-style homes with Tudor, Georgian and English Cottage architecture became the hallmark of the neighbourhood.
Demographics
Located in Ward 22, Chaplin Estates has historically been comprised of detached luxury homes. It mainly attracts upper-middle class and upper-class couples and families, and professionals with upward social and financial mobility. It is also popular with newly married couples transitioning to family life from the bustling Yonge and Eglinton singles scene. According to statistics compiled in 2009, Chaplin Estates has a slightly declining population of just over 5,100 people, down from 5,662 in 2006. This is due to the fact that the number of households in the neighbourhood also shrunk over the same period, from 2,649 in 2006 to 2,363 in 2009. From a real estate standpoint, this signals increasing exclusivity.
People of English, Scottish and Irish descent have historically dominated the neighbourhood, combining to form 41 percent of its 2009 population. However, like Toronto itself it has become a very multicultural community. According to Statistics Canada, over 60 percent of the jobs in Chaplin Estates were described as "white collar," with "blue collar" employees making up just 6.5 percent of the 2009 workforce.
Chaplin Estate Fun Facts
When lots first came up for sale in Chaplin Estates in the early 1920s, they sold for between $500 and $9,000, two or three zeroes shy of what they would command today. Another interesting fact to consider are the vibrations that can be felt between Yonge Street and Duplex Avenue from the outdoor portion of the Yonge-University subway line. Chaplin Estates is also home to Division 53, Toronto Police Services.
Architecture and Real Estate Options
Most homes in the Chaplin Estates neighbourhood were built in the Tudor, Georgian and English Cottage architectural styles. Common exterior details of such homes include ornamental timbering, proportional asymmetry, prominent chimneys, steep rooftops, elegant cross-gables, decorative cornices, and rounded and arched entryways. Overall, the homes in Chaplin Estates have an elegant, tasteful and understated appearance.
Houses are generally two or three storeys in height, offering private driveways and generously sized premium 30 to 50 foot lots with expansive front and back yards. Typical lots have plenty of room for gardens and landscaping features. The average home in Chaplin Estates is a three bedroom, two storey home. In August 2012 detached homes were selling for approximately $1.3 million. Rental units in the neighbourhood are few and far between, and those that become available range on average from $3,777 per month and up. For up-to-date pricing information, visit our stats page.
Transportation
Motorists embarking from Chaplin Estates can reach downtown Toronto, the Allen Expressway and the Don Valley Parkway in approximately 15 minutes, assuming average traffic conditions. Eglinton Avenue and Yonge Street are the major east-west and north-south arteries, respectively.
TTC access is convenient, with major bus routes running along Chaplin Crescent, Yonge Street, Eglinton Avenue and Oriole Parkway. Two subway stations are within walking distance: the southernmost subway station servicing the neighbourhood is Davisville, and its northernmost counterpart is Eglinton.
Parks and Green Spaces
In addition to the scenic Kay Gardner Beltline Trail, which runs along Chaplin Estates' southern boundary, a half-dozen other parks and green spaces grace the area. Blythwood Park, Lawrence Park, Sherwood Park, Moore Park Ravines, the ever-popular Eglinton Park and Toronto's iconic Sunnybrook Park are all easily accessible from the neighbourhood.
The Kay Gardner Beltline Trail is a former commuter railroad line that's been converted to a nature preserve, and offers excellent walking, jogging and cycling paths that wend their way through midtown Toronto. Eglinton Park is a placid open green space popular with dog walkers, joggers and cycling enthusiasts. Sunnybrook Park is one of Toronto's best-equipped outdoor recreation areas, offering fitness and hiking trails, picnic areas, baseball diamonds, soccer fields and a horseback riding centre.
Culture and Recreation
Chaplin Estates has a strong sense of community, with the North Toronto Memorial Community Centre and the North Toronto Memorial Arena serving as two primary anchor points. The community centre offers a wide range of year-round fitness programs for participants of all ages, walking tracks, indoor gymnasiums, an indoor pool, and a seasonal outdoor swimming area with a water slide. In the winter, the arena serves as the home for the neighbourhood's bustling competitive and recreational ice hockey schedule and also offers leisure skating programs. The Neshama Playground at Oriole Park is also nearby, where residents can enjoy music programs, a splash pad, a climbing gym, a merry-go-round, outdoor play structures, and more.
The Toronto Public Library's Northern District branch is situated on Orchard View Boulevard, and offers an extensive collection of books, periodicals, print materials and audio-visual materials, as well as Internet access and ongoing community programs.
As an upscale neighbourhood, finer dining options for patrons with refined palates are plentiful. However, Chaplin Estates also offers a wide range of ethnic options, including Japanese, Korean, Indian, Thai, Italian and Chinese foods. There are also many casual eateries, take-out restaurants and pubs throughout the neighbourhood, offering both Canadian and international fare. The densest concentration of restaurants can be found along the neighbourhood's main arterial roads: Avenue Road, Eglinton Avenue West and Yonge Street.
Given that much of the neighbourhood's population is of British and Irish descent, most of the local churches are of the Anglican and Catholic Christian denominations. Synagogues are also located nearby, especially in Forest Hill, an adjacent neighborhood with a large Jewish population.
Schools
With a sizeable number of families calling the neighbourhood home, Chaplin Estates has many education options, both public and private. The list of local public schools includes:
Oriole Park Junior Public School, 80 Braemar Avenue
Davisville Junior Public School, 43 Millwood Road
Hodgson Senior Public School, 282 Davisville Avenue
North Toronto Collegiate Institute (high school), 17 Broadway Avenue
Would-be residents should note that private schools set their own admissions standards, and may only accept students who reside within strictly defined geographic boundaries. If you are considering moving to Chaplin Estates and wish to educate your children in private schools, it is strongly recommended that you familiarize yourself with admissions policies prior to your move.
Private girls' schools in the Chaplin Estates area include:
Bishop Strachan School, 298 Lonsdale Road
St. Clements School, 21 St. Clements Avenue
Upper Canada College, one of Canada's most prestigious private schools for boys, is also located in the neighbourhood, at 200 Lonsdale Road
Neighbourhood Amenities
Chaplin Estates residents enjoy first-rate shopping, both on the Yonge Street and Eglinton Avenue corridors. On Yonge Street, residents can browse the broad range of specialty boutiques and venture to the Yonge Eglinton Centre, one of midtown Toronto's premier retail complexes. A comprehensive range of retail outlets, a full-service food court, subway access and a multi-screen movie theatre are housed in the mall. Eglinton Avenue West is home to "The Eglinton Way," an exclusive shopping district with luxury fashion and jewelry boutiques woven between gourmet restaurants, professional services centres and decadent grocery retailers.
Paediatricians, general practitioners, medical specialists and dentists are easily accessible in the neighbourhood, especially in the Yonge Eglinton Centre. Sunnybrook Health Sciences Centre, a world-class hospital and outpatient care facility, is also close to Chaplin Estates, in the nearby Leaside neighbourhood.
Future Outlook
Growth in the Chaplin Estates area is expected in the near future, as the City of Toronto has an official mandate to invest in the Yonge and Eglinton area in general, and in the expansion of the Yonge Eglinton Centre in particular. New commercial real estate developments are planned for the south side of Eglinton Avenue, west of Yonge Street, which are likely to trigger an uptick in the value of local real estate.
With its historic charm and elegant grandeur, Chaplin Estates is one of Toronto's signature upscale neighbourhoods. If you are thinking about moving to the Chaplin Estates area, or if you are a current homeowner selling, contact Jethro Seymour. Jethro is a leading Toronto real estate agent specializing in the city's graceful midtown neighbourhoods. He ranked in the top 2% of all Toronto realtors in 2011 in terms of units sold, and has the experience, thoroughness, dedication and insider knowledge needed to help you get top dollar for your home, or help you and your family realize your Chaplin Estates dream.
---
Jethro Seymour is one of the Leading Toronto Real Estate Brokers. Jethro Seymour is a midtown Toronto residential specialist with over 20 years of sales experience in real estate, marketing, construction, and publishing. He has helped many families find homes in Toronto's great neighbourhoods, and has extensive knowledge of local markets, new home construction, resale home sales, and the condo market. Living in midtown Toronto, Jethro previews many of the homes that come to market for his clients and inventory knowledge. Jethro specializes in the Midtown, Davisville Village, and Leaside neighbourhoods.