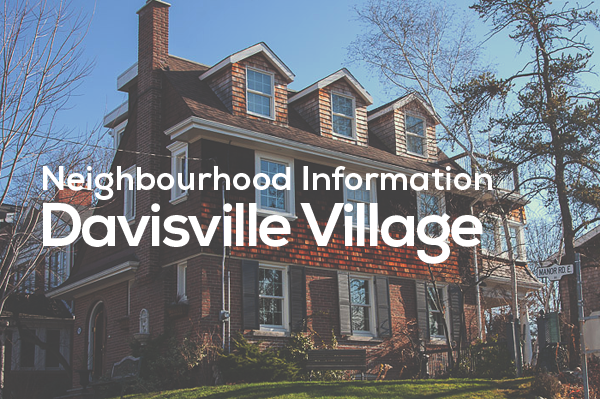 Midtown Toronto's Davisville Village is a vibrant, centrally located neighbourhood that offers a quiet, convenient alternative to downtown living. Situated along Toronto's famous Yonge Street corridor, Davisville Village is bounded by Eglinton Avenue to the north, Bayview Avenue's Leaside to the east, Mount Pleasant Cemetery to the south, and Yonge Street's Chaplin Estates to the west. Its accessibility, energetic and diverse nightlife, world-class shopping, expansive green spaces and proximity to health care, public and private schools, and other essential amenities makes it a preferred choice for singles, couples and families alike.
History of Davisville Village
Davisville is named after John Davis, a prominent early resident. After arriving in Canada from England in 1840, Davis opened the area's first post office and served as its first postmaster. His community-building efforts inspired him to co-found Davisville Public School as well as the Davisville Pottery Company, which was the area's largest employer for many years.
One of the area's most propertied landowners, Davis sold a large tract of real estate to the Dovercourt Development Company in 1911. This transaction marked a turning point in Davisville's history, as the area had been largely undeveloped prior to Dovercourt's acquisition. In the 1920s and 1930s, the Dovercourt Development Company transformed Davisville from an underdeveloped gap in the city's northern hinterland to a blossoming community where people could live, work and play. Single-family homes began to dominate the neighbourhood – many of which still stand to this day. By the 1970s, Davisville's growth strategy had gone vertical, and the area's first condominium projects appeared. These developmental influences have combined to create a fascinating combination of classic century homes and modern high-rises.
Demographics in Davisville Village
Approximately 25,000 people call Davisville Village home, with the neighbourhood's population being dominated by two major demographic groups: senior citizens who have lived in the area for decades, and young families drawn to its small-town-inside-a-big-city feel. In fact, Davisville Village has been said to have "the most active storks in the city," a reference to its popularity with young and growing families. The average age of Davisville Village residents is 40; families with children make up about 60 percent of its population, and senior citizens account for about 20 percent. The remaining 20 percent is made up of singles, young professionals, couples without children, and a small number of immigrants and new Canadians.
Located in Ward 22, Davisville Village is a relatively affluent neighbourhood, compared to Toronto as a whole. According to Statistics Canada, one-third of Davisville Village's households reported an annual income in excess of $60,000, which is more than double the rate reported in the rest of Toronto. Despite its relative affordability, Davisville Village still offers excellent returns on homeowner investment, with average home values and appreciation rates exceeding those seen in the rest of Toronto.
Fun Davisville Village Facts
Davisville's original post office, a two-storey building at the northeast corner of Yonge Street and Davisville Avenue, still stands – though it has now been converted to a Starbucks. The original post office was managed by Jack Davis, grandson of neighbourhood founder John Davis, well into the 20th century.
Originally, the area now known as Davisville was divided into southern and northern districts. The Davis family owned the vast majority of the land in the southern district prior to the Dovercourt development deal of 1911, but the area's northern district was under the control of the church.
Today, the old north-south divisions have been replaced by an east-west split. The City of Toronto has designated two official neighbourhoods within Davisville Village: the affluent Mount Pleasant West, and family-friendly Mount Pleasant East.
Architecture and Real Estate Options
---
Condominiums and high-rises have come to define the neighbourhood in recent decades, especially in the Mount Pleasant West neighbourhood. Davisville Village has a relatively high population density, largely owing to the dozens of high-rise apartment and condominium developments which have appeared since the 1970s, particularly along the area's main thoroughfares. Low- and mid-rise apartments and condos are common in Davisville Village in general and Mount Pleasant West in particular. About 90 percent of the population of the Mount Pleasant West area lives in low-to-high-rise apartments or condominiums, meaning the area has a high proportion of renters. All in all, there are 3,500 houses and 9,281 apartment and condominium units in the neighbourhood.
There are many condominium ownership opportunities available in Davisville Village, ranging from modestly priced entry-level units to lavish, well-appointed properties in upscale buildings. In addition to gleaming modern condominium developments, townhouse complexes have also cropped up in recent years, adding diversity and choice for prospective buyers. In terms of standalone houses, the majority of the homes in Davisville Village are medium-sized brick dwellings that date back to the Dovercourt development era of the 1920s and 1930s. More specifically, two- and three-storey Edwardian and English Cottage-style houses dominate, particularly in the Mount Pleasant West market. In the Mount Pleasant East neighbourhood, homes tend to be smaller and newer. Here, bungalows, duplexes and semi-detached homes make up the bulk of the housing options, though there are also numerous well-preserved estates dating back to the late 19th century as well as modern custom-built homes that occasionally come up for sale.
Generally speaking, real estate prices tend to be higher in Mount Pleasant West, reflecting its affluence and exclusivity. Mount Pleasant East is more of an upper-middle-class neighbourhood, with affordable home values that attract more first-time buyers, young couples, and families with young children. For up-to-date sales statistics, please visit the stats page.
Transportation
Davisville Village is easily accessible by TTC subway, with two stations located on the Yonge-University line. The Davisville subway station services the neighbourhood's southern reaches, and the Eglinton subway station services the northern corridor. An express bus service shuttles passengers from Mount Pleasant Road and Davisville Avenue to downtown Toronto, with local buses running along all the major streets and arterial roads in the neighbourhood.
The nearest entry points to Highway 401 and the Don Valley Parkway are approximately 6 kilometres from the heart of Davisville Village. Drivers can easily access the Bayview Extension, which is about 2 kilometres away, and the Allen Expressway is located about 4 kilometres from the centre of the neighbourhood.
Parks and Green Spaces
---
June Rowlands Park, formerly known as Davisville Park, is the neighbourhood's premier outdoor recreation space. Located near the intersection of Mount Pleasant Road and Davisville Avenue, June Rowlands Park has been a focal point of community activity for years. The park includes a large playground where the many families in the area enjoy outdoor adventure with their children, and a wading pool with sprinklers opened in 2012, providing additional leisure opportunities during the summer months. Expansive green spaces stretch throughout the park, offering the ideal setting for dog-walking, informal soccer and Frisbee games, and a placid respite from the hustle and bustle of the city. Six tennis courts operated by the Davisville Tennis Club house a busy league and tournament schedule during the warm-weather months, but they are also available for individual use. The tennis club's waiting list is long, so be sure to register early if you would like to participate.
---
Mount Pleasant Cemetery is very close to June Rowlands Park, and is one of Toronto's most iconic and scenic outdoor attractions. Known for its diverse and professionally cultivated gardens, Mount Pleasant Cemetery also offers an excellent network of paths and trails, making it the ideal place to enjoy a quiet stroll on a nice day. It also houses an arborist sanctuary with hundreds of different tree species and connects through Bennington Heights and Moore Park to the scenic Rosedale Ravine.
Culture and Recreation
Davisville Village is noted for its varied and vibrant nightlife. There are numerous options for moviegoers, including Mount Pleasant Cinema and Regent Theatre, both of which are well-preserved, historic movie houses. The modern SilverCity Cineplex on Yonge Street at Eglinton Avenue offers a contemporary alternative. While the area isn't known for its nightclubs, there are dozens of pubs, cocktail lounges and wine bars, ranging from informal and casual to chic and cultured.
Given Toronto's status as one of the world's most multicultural cities, it's no surprise that Davisville Village houses an astonishing range of restaurants. Asian and Indian fare is strongly represented, with a large number of gastro pubs, vegetarian restaurants, seafood specialties and European-influenced eateries adding to the options. Coffee shops, breakfast cafes and relaxed diners serving up home-style favourites are also abundant.
The City of Toronto operates three libraries in the Davisville Village area, including the Mount Pleasant Branch Public Library, the Northern District Public Library and the Leaside Public Library, which primarily services the adjacent Leaside neighbourhood but is also easily accessible to Davisville Village residents.
Places of worship, primarily in the Protestant tradition, can be found throughout Davisville Village. German United Church, Glebe Presbyterian Church and the Church of Transfiguration are all located in Mount Pleasant West, as is the local headquarters of the Catholic Rights Civil League and a Salvation Army office. Manor Road United Church, the Christian Reformed Church and the Bethel Baptist Church are situated in the Mount Pleasant East neighbourhood.
Schools in Davisville Village
Educational opportunities are very important to many prospective Davisville Village real estate buyers, given the area's prominence as a hotspot for young families. The neighbourhood is home to numerous well-ranked schools on the Fraser Institute's rankings list. Here is a list of public schools serving the neighbourhood:
Davisville Junior Public School, 43 Millwood Road

Eglinton Junior Public School, 223 Eglinton Avenue East

Maurice Cody Junior & Senior Public School, 364 Belsize Drive

Hodgson Senior Public School, 282 Davisville Avenue

Spectrum Senior Alternative Public School, 43 Millwood Road

Northern Secondary School, 851 Mount Pleasant Road

North Toronto Collegiate Institute, 17 Broadway Avenue

Leaside High School, 200 Hanna Road

Metro Toronto School for the Deaf, 43 Millwood Road
Those considering private schools should be advised that admission requirements are created and enforced by each individual institution. It is a good idea to explore admissions possibilities at desirable schools before moving to the area, if educating children in locally accessible private academies is a priority.
Private schools in the Davisville Village area include:
Sunnybrook School, 469 Merton Street (Junior Kindergarten to Grade 6)

Greenwood College, 443 Mount Pleasant Road (Grades 7 to 12)
Davisville Neighbourhood Amenities
Mount Pleasant Road is home to Davisville Village's primary shopping district. Fast becoming one of Toronto's premier shopping hotspots, the Mount Pleasant Road retail corridor offers everything from cozy antique shops and independently owned home décor stores to fashion boutiques, toy stores and international chain retailers. Many of the neighbourhood's most popular restaurants are interwoven between the storefronts, giving shoppers plenty of options when they're ready to take a break and grab a bite to eat. Thanks to its diversity and broad appeal, the Mount Pleasant Road shopping area draws visitors from all around the city and all around the world. For further information on local businesses, visit the Mount Pleasant Village Business Improvement Association (BIA) website.
The nearby Yonge and Eglinton area is home to Yonge Eglinton Centre, a full-service multi-level retail complex which is widely regarded as the best shopping venue in midtown Toronto. Area residents can also register with dentists and family doctors, as many medical professionals are based in the mall. General practitioners and medical specialists alike also operate throughout the Davisville Village neighbourhood.
Future Outlook
Davisville Village is one of the last centrally located Yonge Street neighbourhoods that is still affordable. Its midtown location and easy accessibility make it an ideal choice for professionals working downtown and families who want to enjoy the conveniences of the city while raising their children in a peaceful, safe community.
Blending small-town charm with the convenience and amenities of big-city life, Davisville Village is one of Toronto's friendliest residential areas. Minutes from downtown, yet blessed with a more relaxed and leisurely pace of life, Davisville Village is expected to continue its upward trend as one of the most desirable neighbourhoods in the city.
Jethro Seymour is a Davisville resident and one of the city's top real estate agents, specializing in midtown Toronto real estate. Whether you're buying or selling, contact him first.
---
Jethro Seymour is one of the Top Davisville Village Real Estate Brokers. Jethro Seymour is a midtown Toronto residential specialist with over 20 years of sales experience in real estate, marketing, construction and publishing. He has helped many families find homes in Toronto's great neighbourhoods, and has extensive knowledge of local markets, new home construction, resale home sales, and the condo market. Living in midtown Toronto, Jethro previews many of the homes that come to market for his clients and inventory knowledge. Jethro specializes in the Midtown, Davisville Village and Leaside neighbourhoods.