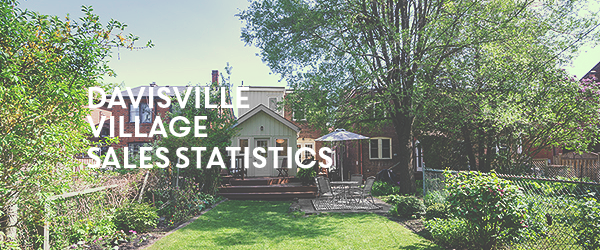 In September of 2013, 11 homes changed hands in Davisville Village, marking a 10% increase over September of 2012, when 10 homes were sold in the neighbourhood. In addition, the average dollar value of these transactions rose by 6.3%, including a 6.9% increase in the value of detached homes and 12.1% increase in semi-detached homes. Last year, the average monthly value for all homes sold in Davisville Village was $978,490, compared to $1,039,682 this year. 3 Semi-detached homes sold in September of 2013, compared to 4 in August of 2012.
Davisville Village year-to-date home sales are down, from 140 in 2012 to 118 in 2013 — a decrease of -15.7%. Detached home sales are down -15.7% for the year. The volume of semi-detached home sales are also down -17% to date in 2013.
Year-to-date, Davisville Village homes have posted a modest 3.5% increase in value compared to this time last year. The value of the average home rose to $966,065 in 2013, up from $933,782 in 2012. Among the 70 detached homes that have sold so far this year, the average sale price is up 5.9% this year, coming in at $1,102,403. Semi-detached home values are down -1.6% in 2013, to $762,352 compared to $774,539 in 2012.
As of October 9th 2013, there were only 14 homes in Davisville Village for sale. 3 Detached, 7 semi-detached, 3 townhouses and 1 duplex.
---
For more in-depth information on local real estate trends, contact Jethro Seymour, one of the Top Davisville Village Real Estate Brokers at Royal LePage RES Ltd., Johnston & Daniel Division . Jethro Seymour is a midtown Toronto residential specialist with over 20 years of sales experience in real estate, marketing, construction and publishing. He has helped many families find homes in Toronto's great neighbourhoods, and has extensive knowledge of local markets, new home construction, resale home sales, and the condo market. Living in midtown Toronto, Jethro previews many of the homes that come to market for his clients and inventory knowledge. Jethro specializes in Midtown, Davisville Village and Leaside neighbourhoods. For more information, call Jethro Seymour, Broker at 416-712-0767, email Jethro@SeymourRealEstate.ca.
Please also check my real estate news headlines on Medium.com