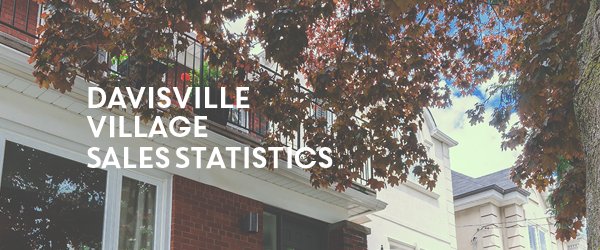 Davisville Village October 2016 Home Sales Statistics
Davisville Village fall home values on MLS continue to trend upward!
12 Month Rolling Average
Below are the stats over the last 12 months, from October 2015 to the end of October 2016, compared to the previous 12 months, October 2014 to the end of October 2015.
Sales Volume Changes*
All Home Sales – up 1.3% to 155 sales
Detached Home Sales –  down 18.2% to 72 sales
Semi-Detached Home Sales – up 27.6% to 74 sales
Dollar Value Changes*
All Home Values – up 17.5% to $1,360,707
Detached Home Values – up 24.8% to $1,635,717
Semi-Detached Home Values – up 16.1% to $1,089,928
*12 month year-over-year changes ending October 31st, 2016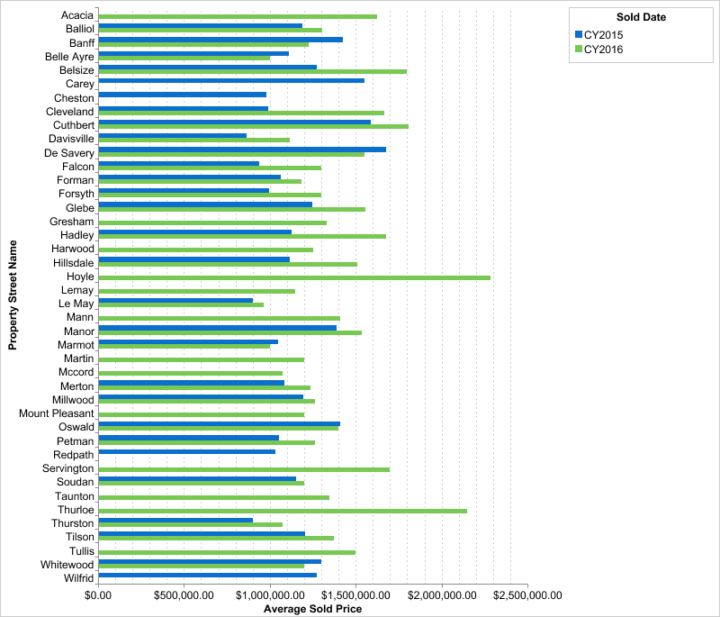 Monthly Changes
As we are now into the cooler months, the housing inventory is low, but this is what pushes home values to increase. The fall market, while a busy one, is not quite as robust as the spring. Those thinking of taking advantage of this year's market appreciation would be advised to list their homes before the snow flies. This is the prime time to sell your Davisville semi.
Low inventory levels help increase home values in Davisville Village
In October, just 6 homes changed hands in Davisville Village, representing a 60% decrease in home sales over last year. Of those home sales in October, only 1 was detached, which was a 90% drop from the past year's 10 detached home sales. Over the past year, the average dollar values of those 6 October homes saw a 5% drop and sit at $1,254,667.
Year-to-Date Changes
The average value of 2016's year-to-date 137 homes rose by 18.6% or $1,391,209 compared to the 138 homes that sold in the first ten months of 2015 for $1,173,476. The 64 semi-detached homes saw a 18.3% gain in average value over the 52 semis that traded in the first ten months of 2015.
The highest valued Davisville sale on TREBs MLS so far in 2016 was $2,795,000 for a detached home on Belsize. The lowest valued sale was $740,000 for a semi-detach home on Soudan.
The average size frontage of the 65 sold homes was 25.89 feet in width. The widest range in at a very wide 35 feet and the longest was 175 feet. So far this year, homes have been selling 10.97% above the listed asking price.
As of November 7, 2016, there were 10 homes available for purchase in Davisville Village.
---
All statistical information sourced from the Toronto Real Estate Board's MLS system
For more in-depth information on local real estate trends, contact Jethro Seymour, Broker at Johnston & Daniel, a division of Royal LePage R.E.S. Ltd (Phone: 416-712-0767, Email: Jethro[at]SeymourRealEstate [dot com], or visit Jethro's website at www.SeymourRealEstate.com. Jethro Seymour is a midtown Toronto residential specialist with over 20 years of sales experience in real estate, marketing, construction and publishing. He has helped many families find homes in Toronto's great neighbourhoods, and has extensive knowledge of local markets, new home construction, resale home sales, and the condo market. Living in midtown Toronto, Jethro previews many of the homes that come to market for his clients and inventory knowledge. Jethro specializes in the Davisville Village and Leaside neighbourhoods.
Jethro Seymour, one of the best Toronto Midtown Toronto Agents at Royal LePage RES Ltd., Johnston & Daniel Division. #SeymourRealEstate