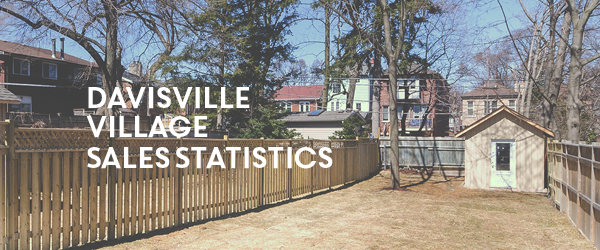 In November, Davisville Village home sales were down 66.7% compared to the same period last year. A total of 12 homes were sold this past November, compared to 20 in November 2011. However, the average value of a Davisville Village home increased 12.1%, from $804,548 in 2011 to $914,900 in 2012. Homes sold in an average of 14 days, for 105% of the asking price.
Year-to-date home sales are up 3.3% over the same period last year, with 180 Davisville Village homes selling in 2012 versus 174 homes in 2011. The average value of a home in our neighbourhood rose to $934,968, an increase of 9.3% over the same period in 2011. That's a great return on investment in a tight market!
As of December 6th, 2012, there were 12 homes available for sale in Davisville Village, ranging from a detached starter home on Hillsdale Avenue listed at $699,000 to a detached custom build with cathedral ceilings on Balliol Street listed at $1,699,000. I make a point of seeing every home that comes on the market and can answer any questions you may have about trends, streets and homes.
---
For more in-depth information on local real estate trends, contact Jethro Seymour, one of the Top Davisville Village Real Estate Brokers at Royal LePage RES Ltd., Johnston & Daniel Division . Jethro Seymour is a midtown Toronto residential specialist with over 20 years of sales experience in real estate, marketing, construction and publishing. He has helped many families find homes in Toronto's great neighbourhoods, and has extensive knowledge of local markets, new home construction, resale home sales, and the condo market. Living in midtown Toronto, Jethro previews many of the homes that come to market for his clients and inventory knowledge. Jethro specializes in Midtown, Davisville Village and Leaside neighbourhoods. For more information, call Jethro Seymour, Broker at 416-712-0767, email Jethro@SeymourRealEstate.ca.
Please also check my real estate news headlines on Medium.com